Tires for Life Program | West Springfield
Learn about the Tires for Life Program available at Bertera FIAT in West Springfield! Never have to buy new tires again! Browse our new FIAT inventory and contact us to see if you qualify for the tires for life program!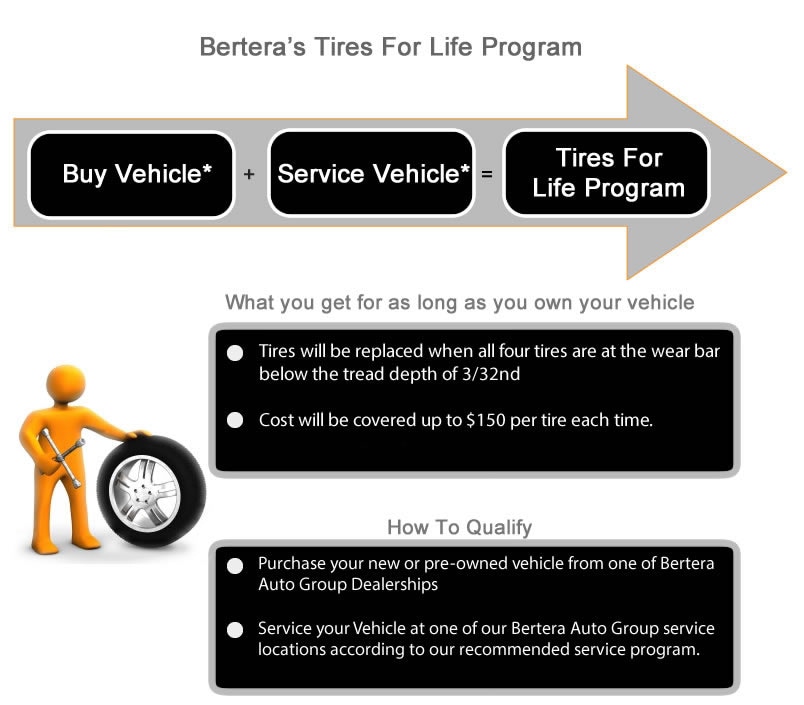 Pro Tec Tires for Life

The undersigned has purchased a new or pre-owned vehicle from Bertera (hereinafter referred to as the "Dealership") and has been enrolled in the complimentary service loyalty reward program "Protec Tires for Life" (hereinafter referred to as "the Program") and understands the following requirements to qualify for reimbursement. These are a few examples of the guidelines and this is for clarification purposes only. For a full description of the guidelines and program requirements, customers must refer to the front and back sides of the Pro Tec Tires for Life agreement, AND the Dealership's Service Department Maintenance Schedule Booklet.

    This is an optional program for which there is no fee or charge to the undersigned and has no cash value. Reimbursement is limited to a maximum of $150 per tire (see terms). The undersigned is responsible for any difference in the cost of the tire(s), valve stems and labor to mount and balance.

    This is not a tire warranty or guarantee but a program which the undersigned may take advantage of to receive reimbursement for replacement tires which have worn evenly to a minimum of 3/32.

    The undersigned has read the documentation concerning the program including the maintenance requirements. The program and its guidelines are set by and approved by the Administrator of the Pro Tec Tires for Life program. All claims are subject to the administrators prior approval.

    The undersigned understands that to qualify for any reimbursement for a tire or tires, you are required to have all regular scheduled maintenance services, as outlined in Our Service Department Maintenance Schedule Booklet, performed at this issuing dealership. Each maintenance service interval must be performed every 5,000 miles or 6 months, whichever comes first (a grace period of 500 miles or 1 month is permitted). If the vehicle is factory
    equipped with Synthetic Oil or is equipped with a Diesel engine do not exceed 7,500 miles or 6 months, whichever comes first. Failure to maintain the vehicle's suspension and proper alignment of all four wheels, causing irregular wear, will result in denial of any tire or tires reimbursement.
    Customer Initial ________________

    The Bertera Auto Group values every customer but it is understood that not all customers or vehicles will qualify for the program. For example, if the customer does not maintain the vehicle at this dealership, if the vehicle does
    not require tire rotations, if the vehicle is designed to operate with different size tires, if the vehicle is equipped with staggered or speed rated or summer tires, if maintenance intervals are not within a reasonable tolerance (within 1 month or 500 miles), if purchased New or Pre-owned and not driven a minimum of 15,000 miles from the original mileage at the time of sale, if there is irregular wear and (but not limited to) some vehicles which our service departments are unable to provide service.

    No further representations have been made to the undersigned by this Dealership, employees or agents. Refer to the Pro Tec Tires for Life agreement for program details.

    This is a no charge complimentary program and has no cash value. Participation is optional. The undersigned agrees to hold this Dealership and the Bertera Auto Group of Dealers harmless of any past, present or future claims regarding this policy or program and further agrees not to litigate any claims against this Dealership, any other Bertera Dealership or the Administrator of the Pro Tec Tires for Life. The Administrator of the Pro Tec Tires for Life program will make all decisions on claims submitted and will determine eligibility for reimbursement of any tire or tires and that decision is and will be final and accepted by the undersigned.
    You are solely responsible to maintain your eligibility and to schedule each required service interval within the program guidelines.
Dated Customer's Acceptance _______________________________
Revision Betera DOM 92013
Click Here To Download >> Terms in PDF Format